Our resources for Microsoft Excel cover the many features, functions and formulae attributed to this software and gives plenty of practice with for beginners right through to students working at an advanced level.
All our Microsoft Excel resources and paperless with instructions online by way of comment boxes.  They have been designed in such a way that there are lots of hints and tips for the first 4 – 5 tasks and thereafter they get progressively more complex with less help in order to get students thinking for themselves as they continue to build their skill.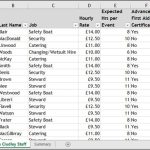 Lots of practice with spreadsheets and databases. This pack is aimed at Higher Admin and IT and incorporates many of the skills you would expect to see in the Assignment. Pack 1 is based around Open Water Swimming Events.