To support Business Management, we have focused initially on Finance topics as feedback from both teachers and students is that it is this particular business function that seems to cause the most confusion and lack of understanding.
We can offer plenty of practice in understanding and analysis of management accounts with tasks on Break even Analysis and Cash Budgets. The understanding and analysis of financial accounts features in almost every business-related course and qualifications and we have designed several units to help students navigate their way through this area of study.  We have resources on Income Statements and Statement of Financial Position (also known as Profit & Loss Accounts and Balance Sheets) and Financial Ratios.
All our resources are paperless and can be completed online by way of Excel Spreadsheets.  Paper based tasks and suggested solutions are also included in every pack.  As with all our resources, tasks get progressively more difficult with less instructions and the business topics also have "exam style" questions at the end.
***UPDATE *** There are now additional resources to specifically support N5 Accounting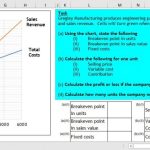 A follow on from the Level 1 pack BYS [FINV1001] this more advanced pack is aimed at N5 Accounting and A Level Business Studies. Plenty of practice on completing break-even tables, analysing graphs, calculating contribution, BEP, margin of safety, profit/loss at a certain level of output and where there is a required profit. See below for a full product description.