Our resources that support Microsoft Word have been designed in such a way as to mirror the way in which new businesses might use this package, for example creating headed paper by designing a letterhead, how to write business letters and integrating other Microsoft packages such as Excel graphs into them and designing tables and forms.
There is plenty of practice on mail merge and resources that helps students build their skill when working with large documents and explores how businesses can use more sophisticated aspects of Word such as watermarks, footnotes and a contents page.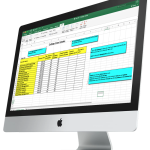 These PDF files gives an idea of what the Build Your Skill Resources look like by using a series of screenshots to give examples and an overview of tasks.